Patient Centered Medical Home
Welcome to your Medical Home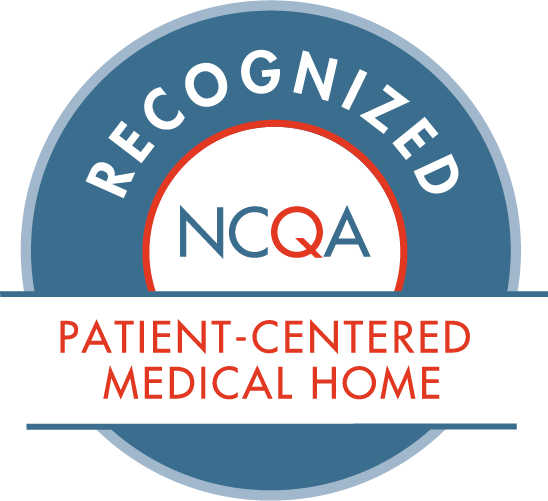 Patient-Centered is a way of saying that you, the patient, are the most important person in the health care system.
Med First Urgent Care of Jacksonville, Dillon, Southport, Swansboro and Physicians Immediate Care are open until 8pm. To reach us after hours call 910-346-2273. A provider will return your call within 15 minutes. You can also reach us through the Patient Portal 24/7 and that we will respond usually within 12 hours. For emergencies, please call 911 for help. Our clinics provide same day appointment slots as well as numerous walk-in appointments for our established and new patients.
Some of our practices have already been recognized as NCQA recognized Patient Medical Homes. We are very proud of this accomplishment and we are preparing all our locations to also be NCQA recognized practices in 2017.
You are at the center of your health care.
A Medical Home is an approach to providing total health care. With your medical home, you will join a team that includes health care professionals, trusted friends or family members (if you wish), and-most importantly-you.
Get ready for your appointment, use this handy checklist:
Make a list of your health questions. Ask a friend or relative for help if you need it.
Have your complete medical history ready. You can download New Patient Forms from this link and have them filled out before your appointment.
Make a list of other health care providers you have visited. Write down their names, address', phone numbers, 

and the reason you visited them.

Take all of your medicines, in their original containers, to your appointment. Be sure to include prescription, 

over-the-counter, natural, and herbal medicines and vitamins.

Take your insurance card or other insurance information with you to your appointment.
If you wish, ask a family member or trusted friend to go to your appointment with you.
During your appointment, use this handy checklist:
Write down the names of your team members.
Use your list of questions. Ask your most important questions first. Even if you can't get all of your answers on 

the first visit, having a list will help you keep track of the answers.

Talk with your team about what health issue to work out first.
Be sure you know what you should do before you leave the office.
Use your own words to repeat back the things you've discussed with your team. This way, both you and your 

team will know the information is clear.

Ask your team about how to reach them after hours if you need.
Your Medical Home can help you:
Get to know your team.
Our team of physicians, midlevels, medical assistants and our entire staff will work with you and your family for all your healthcare needs.
If you are new to our practice, visit our website to learn more about our qualified providers at all locations. Look to resources like your insurance information, local reviews and online report cards of the providers to determine the best choice for your care.
Your medical home team will know you and your family. They can help you manage your total health care. You can see the same team each time you visit, and they can help answer your health questions.
Work with other medical experts. 
Our providers use nationally recognized evidence based guidelines to work with you to manage your healthcare needs. We can provide you with the educational information on your diagnosis and resources in your local community that can help you to provide self management support.
For example, if you need to see a specialist, your team can keep in touch with the specialist to make sure you get the care you need.
We will work with your insurance carrier to provide you with specialists that accept your coverage and reduce your costs. We will also get the property preauthorization's to submit to your insurance on your behalf.
Track your health information using computers and electronic records.
This way, your team will have all of your records in one place.
Your team will have convenient office hours for your appointments. They may also offer you the option of using email and the internet to keep in touch with them, to request prescription refills and request an appointment with the provider.
We accept all insurance, self pay, Medicaid and Medicare.  If you don't have insurance we can direct you to the Healthcare.gov website and local resources to help.
What can YOU do to help?
1. Be an active team player.
Talk with your team about your health questions. Share the success and the challenges you've had with health care in the past.
Tell your team about other health care professionals who care for you.
Tell your team how you feel about the care you are getting from them.
2. Take care of you health.
Follow the health care plan you and your team have worked out. Make sure you understand how to follow the plan.
Set goals you can reach. Once you begin to see results, you and your team can discuss adding new goals.
3. Talk openly with your team.
If you are having trouble sticking with your care plan, tell your team about it.
If you feel your care plan is not working, speak up. Tell you team what is not working so together you can make changes if needed.
How can a Medical Home help you?
The health care system can be confusing. Many people visit a lot of doctors and feel lost in the system.
The medical home team will listen to your questions and can help you find your way through the system.
With a medical home, you and your team will work together. As an active member of your team, you will have a chance to explain the things that are really important to you.
Your team can answer your questions and help you better understand your health care needs.
If you need to get help from other doctors, your team can support you every step of the way.
Your medical home will have convenient office hours to help you get an appointment at a time that works for you.
Together, you and your team can work out a plan just for you, including:
Personalized health care that meets your needs.
Tracking of your care.
More ways to keep in touch with your health care team.
Working with your team may improve the quality of your health care and shorten the time it takes 

to get that care.
PATIENT-CENTERED MEDICAL HOME
Remember, the medical home can be a way for you to be informed about, and involved in your health care decisions. The medical home can bring you, your family, and your health care team together to help you make the best choices about your health.
Behavior health resources
We are happy to refer our patients to our co-management partner, Coastal Carolina Neuropsychiatric Center  910-938-1114
Community Resources
Onslow County  Meals on wheels: 910-989-3006
Wake County Meals on Wheels: 919-833-1749
Food Bank of Central & Eastern NC: 919-875-0707
Twin Rivers YMCA: 252-638-8799
Onslow Health Department: 910-347-2154
Onslow Home Health & Hospice: 910-577-6660